DEBY HARPER, EXECUTIVE DIRECTOR
Trigon Lifestyle Insights: Work - Life - Balance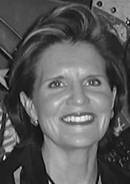 Deby Harper is the founder and principal of the Fitness Co and Lifestyle Insights both based in Scottsdale , Arizona . She has spent the last 25 years developing corporate fitness and wellness programs for numerous Fortune 500 companies. She is a Certified Behavioral, Value and Attribute Index Analyst, a Somatic Practitioner and a Certified Personal Trainer and Fitness Instructor. Along with her husband Brad, Deby has spent the last ten years developing the the Lifestyle Insights System and its related technology. From 1995 to 1998 Deby worked with the Lee Clinic of Stress Medicine in which the Lifestyle Insights System was used as part of their Executive Stress Management Program.
The Lifestyle Insights Program has been featured on national television on Today's Breakthroughs: Tomorrow's Cures, a program that specializes in breakthroughs in health, education, and prevention.

Deby developed and taught some of the first organized fitness programs in Phoenix , and today continues to be an innovator in the field of wellness/health. Her interdisciplinary approach to creating a healthy environment includes improving the movement and activity level of employees, reducing stress as well as high-risk behaviors. Deby has designed and instructed a wide variety of programs with numerous corporate clients including Advance PCS, American Express, Discount Tire, VLSI, The Village Tennis & Health Club and The Golden Door Spa.
Her programs have been featured in Inc. Technology, Home Office Computing, Walking, Health, Success (Working at Home), Family Circle, Self, More, and various other publications. Harper is a frequent guest on local and national radio and TV programs.
Programs and products developed by Ms. Harper have been adopted by such notable firms as Microsoft, Arthur Anderson, Times Mirror, Merck, AT&T, Allied Signal, American Express, Becktel, Health Partners Health Plan, Inc., MCI Communications, W.L. Gore, Hewlett-Packard, Shell Oil, Sprint, PBS, FOX Communications, ABC, CBS and more than 100 others.
Harper's most visible projects over the past 14 years revolve around an inflatable sphere that is sweeping through corporate workplaces as a posture and productivity enhancing sitting alternative. An ergonomic tool (with superior performance as a workplace chair), it has been featured at the $2,500-per ticket Innovative Thinking Conference for CEOs, and is receiving good press from Buenos Aires to Japan . The Fitness Co. is the main purveyor of the PostureBall to the American workplace. Although copied by many Deby is its' most notable proponent in the corporate world.